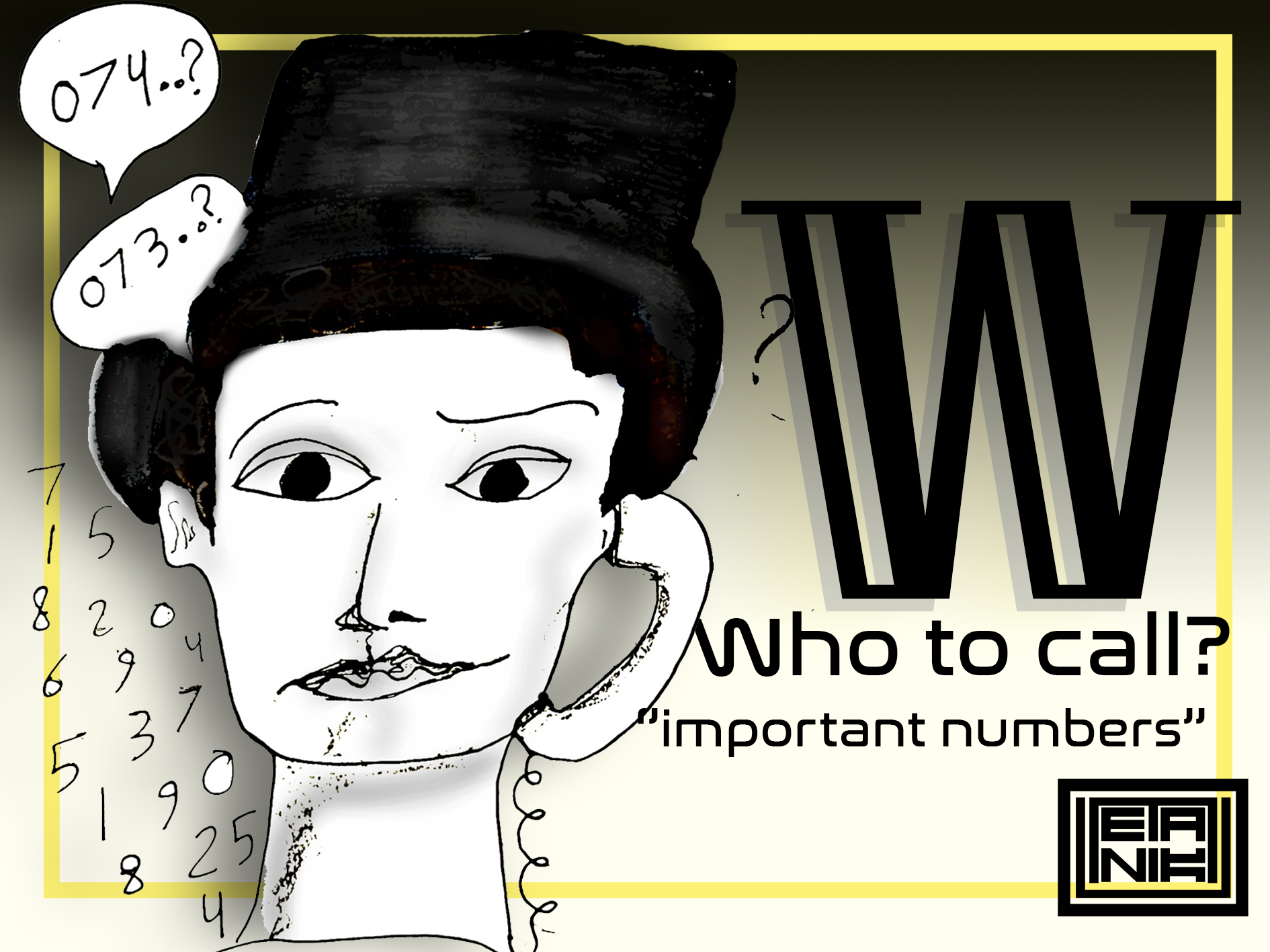 Here some important numbers that would gladly help you someday…
Ninety-one years ago
, BT launched their speaking clock service.
Most modern phones display the time. But, if your screen's broken, and you desperately need to know the time, just dial 123 and voila – a robotic voice will tell you the exact time.
Just remember, the talking clock service isn't free. In fact, it costs a minimum of 39p per minute depending on your provider.
141/1470 (Withhold/Provide Identity)
As every prank caller knows, dialling 141 before making a call will withhold your identity on a call-by-call basis. This means your number will be displayed as "unknown" to the person you call, even if they dial 1471.
If you've chosen to permanently withhold your identity, dialling 1470 will allow whoever you're calling to see your number on a call-by-call basis.
 1471 (Reveal Identity of Last Caller – Only Available on Some Networks)
As everyone who's received a prank call knows, dialling 1471 will tell you the number of the last person who called (unless they've chosen to withhold it). If you dial 3 while on the line to 1471 you will place a call to the last number that phoned you.
The world's oldest emergency telephone number
, 999 was first introduced in London in 1937. Dialling 999 will take you through to one of the following emergency control centres: police, ambulance, fire or coastguard.
Additional services can also be reached via the number
. These include: lifeboat, mountain rescue, lowland rescue, cave rescue, moorland search and rescue, quicksand search and rescue, mine rescue and bomb disposal.
If you have a speech or hearing impediment, you can sign up to the emergencySMS service. To do this, text "register" to 999 and follow the instructions.
999 + 55 (Silent Solution)
In certain situations, a 999 call will be required, but the caller may not be able to speak – perhaps because doing so will put either themselves or someone else in danger.

But staying silent on a 999 call does not mean someone will not come to your aid

.
Unfortunately, 999 responders will not automatically respond to a silent call. To make it clear you need assistance when talking could worsen the situation,

you need to enter 55 when prompted which will route the call to the police

.
101 (Police Non-Emergency Number)
101 is the national non-emergency police phone number.

You can use 101 when you need the police but not an emergency response

. As such, use 101 if you've had a minor traffic accident, for vandalised property, if your car has been stolen, if you suspect someone of drug dealing, if you've witnessed a crime, if you've seen a missing person or if you want to speak to a local officer.
Calls to 101 cost 15p per call.
NHS 111 is a

free to call

number for people with an urgent but not emergency health issue. The service puts callers in touch with a fully-trained adviser who can give self-care advice, connect you to a nurse, emergency dentist or GP, book an appointment, send an ambulance and direct you to other resources.
Samaritans offer a safe place to talk any time you like, on your own terms. The service was founded in 1953 in London by a vicar called Chad Varah who wanted to help people in distress but who had nowhere else to turn.

More than 20,000 people volunteered for the Samaritans in 2017, and a call is made to the service every six seconds

.
Calls placed to the Samaritans are not shown on phone bills.
Childline is a free, private and confidential service for children in distress
. Aimed at anyone under the age of 19, Childline offers a counselling service that is non-judgemental, isn't easily surprised, gives children time, understands the issues kids face today and is open and friendly.
Calls placed to the Childline are not shown on phone bills.
0800 111 999 (Gas Emergency)
Operated by SGN, the gas emergency number is a toll-free number for people who smell gas or are worried about a gas emergency
. The SGN agent will ask a series of questions to ascertain the severity of the situation, before offering advice and sending help when it is required.
 112 (Global Emergency Number)
Different countries have different emergency numbers. This can be an issue for frequent travellers or those travelling through multiple countries. Luckily, so long as you're travelling in one of the 127 countries which use it,

you only need to remember one: 112

. Handy!
Whether you're concerned about yourself or a loved one, these helplines and support groups can offer expert advice.
Anxiety UK
Charity providing support if you have been diagnosed with an anxiety condition.
Phone: 03444 775 774 (Monday to Friday, 9.30am to 10pm; Saturday to Sunday, 10am to 8pm)
Website: www.anxietyuk.org.uk
Bipolar UK
A charity helping people living with manic depression or bipolar disorder.
Website: www.bipolaruk.org.uk
CALM
CALM is the Campaign Against Living Miserably, for men aged 15 to 35.
Phone: 0800 58 58 58 (daily, 5pm to midnight)
Website: www.thecalmzone.net
Men's Health Forum
24/7 stress support for men by text, chat and email.
Website: www.menshealthforum.org.uk
Mental Health Foundation
Provides information and support for anyone with mental health problems or learning disabilities.
Website: www.mentalhealth.org.uk
Mind
Promotes the views and needs of people with mental health problems.
Phone: 0300 123 3393 (Monday to Friday, 9am to 6pm)
Website: www.mind.org.uk
No Panic
Voluntary charity offering support for sufferers of panic attacks and obsessive compulsive disorder (OCD). Offers a course to help overcome your phobia or OCD.
Phone: 0844 967 4848 (daily, 10am to 10pm). Calls cost 5p per minute plus your phone provider's Access Charge
Website: www.nopanic.org.uk
OCD Action
Support for people with OCD. Includes information on treatment and online resources.
Phone: 0845 390 6232 (Monday to Friday, 9.30am to 5pm). Calls cost 5p per minute plus your phone provider's Access Charge
Website: www.ocdaction.org.uk
OCD UK
A charity run by people with OCD, for people with OCD. Includes facts, news and treatments.
Phone: 0333 212 7890 (Monday to Friday, 9am to 5pm)
Website: www.ocduk.org
PAPYRUS
Young suicide prevention society.
Phone: HOPELINEUK 0800 068 4141 (Monday to Friday, 10am to 10pm, and 2pm to 10pm on weekends and bank holidays)
Website: www.papyrus-uk.org
Rethink Mental Illness
Support and advice for people living with mental illness.
Phone: 0300 5000 927 (Monday to Friday, 9.30am to 4pm)
Website: www.rethink.org
SANE
Emotional support, information and guidance for people affected by mental illness, their families and carers. 
SANEline: 0300 304 7000 (daily, 4.30pm to 10.30pm)
Textcare: comfort and care via text message, sent when the person needs it most: www.sane.org.uk/textcare
Peer support forum: www.sane.org.uk/supportforum
Website: www.sane.org.uk/support
YoungMinds
Information on child and adolescent mental health. Services for parents and professionals.
Phone: Parents' helpline 0808 802 5544 (Monday to Friday, 9.30am to 4pm)
Website: www.youngminds.org.uk
Abuse (child, sexual, domestic violence)
NSPCC
Children's charity dedicated to ending child abuse and child cruelty.
Phone: 0800 1111 for Childline for children (24-hour helpline)
0808 800 5000 for adults concerned about a child (24-hour helpline)
Website: www.nspcc.org.uk
Refuge
Advice on dealing with domestic violence.
Phone: 0808 2000 247 (24-hour helpline)
Website: www.refuge.org.uk
Addiction (drugs, alcohol, gambling)
Alcoholics Anonymous
Phone: 0800 917 7650 (24-hour helpline)
Website: www.alcoholics-anonymous.org.uk
National Gambling Helpline
Phone: 0808 8020 133 (daily, 8am to midnight)
Website: www.begambleaware.org
Narcotics Anonymous
Phone: 0300 999 1212 (daily, 10am to midnight)
Website: www.ukna.org
Alzheimer's
Alzheimer's Society
Provides information on dementia, including factsheets and helplines.
Phone: 0333 150 3456 (Monday to Friday, 9am to 5pm and 10am to 4pm on weekends)
Website: www.alzheimers.org.uk


Bereavement
Cruse Bereavement Care
Phone: 0808 808 1677 (Monday to Friday, 9am to 5pm)
Website: www.cruse.org.uk


Rape Crisis
To find your local services phone: 0808 802 9999 (daily, 12pm to 2.30pm and 7pm to 9.30pm)
Website: www.rapecrisis.org.uk
Victim Support
Phone: 0808 168 9111 (24-hour helpline)
Website: www.victimsupport.org
Beat
Phone: 0808 801 0677 (adults) or 0808 801 0711 (for under-18s)
Website: www.b-eat.co.uk
Mencap
Charity working with people with a learning disability, their families and carers.
Phone: 0808 808 1111 (Monday to Friday, 9am to 5pm)
Website: www.mencap.org.uk
Family Lives
Advice on all aspects of parenting, including dealing with bullying.
Phone: 0808 800 2222 (Monday to Friday, 9am to 9pm and Saturday to Sunday, 10am to 3pm)
Website: www.familylives.org.uk
Relate
The UK's largest provider of relationship support.
Website: www.relate.org.uk