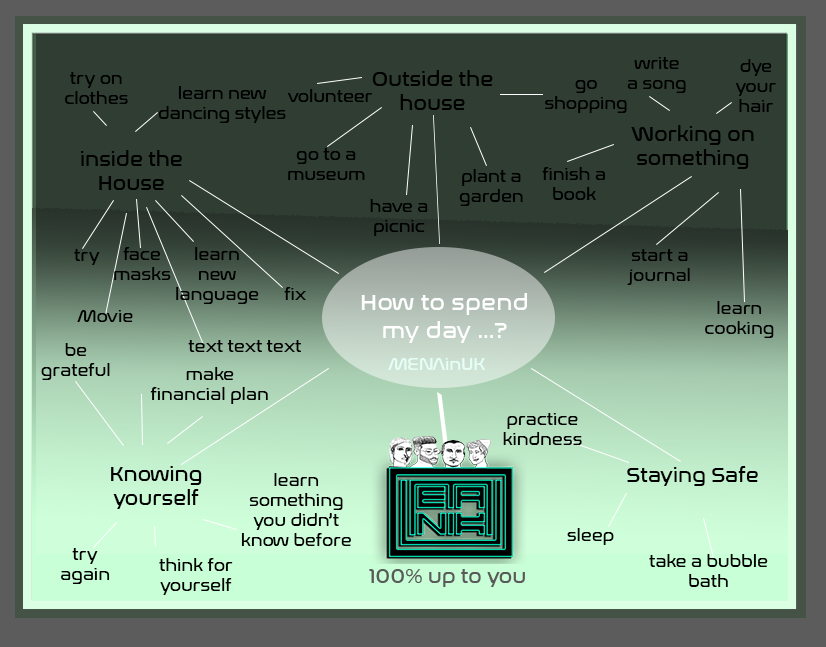 Q: How to spend your day in the UK?
A: ofc it's up to you, but we'll suggest some ways that would help you spending it in multiple ways.
• start spending time with the right people
• start making happiness a daily priority
• let go of self-limiting behaviours
''Days off. They're usually reserved for washing dishes, doing laundry, or paying bills. While all that stuff definitely has to get done (and fast!), doing chores on days off means that they're not really days off at all. Instead of constantly deluging yourself with errands and cleaning on weekends, take a day to indulge yourself without guilt, even if it's only once every now and then. Clear your schedule and do one (or all!) of these super-fun activities!

''
In this period of time where the virus spreading around killing people, we're still lucky because we have time to do the things we like doing and lots of free time in the quarantine, and we must spend all the time that we have, doing the things we love, and explore doing new stuff for many reasons.
Knowing yourself (Hobbies)
If it won't bother your neighbours: Dust off that old instrument and practice.
Text all your exes just in case you have one more thing you wanted to get off your chest.
Watch all the really long movies you've avoided until now.
Download Duolingo, or a similar app, and teach yourself a foreign language.
Face masks, moisturizer, oh my! Treat yourself to a 10-step skin care routine you don't have time for during a normal work week.
. Write letters to family and friends. After that? Write thank-you notes to service people who you remember went out of their way for you.
Put on a soap opera. Mute the sound. Create your own dialogue.
Have a space in your home where all of the Tupperware goes? Organize it and actually match lids to containers.
Try on all your clothes and determine whether they "spark joy" á la Marie Kondo.
Watch the films that won Oscars for best picture.
Use Skype, FaceTime, Google Hangouts or Marco Polo to video chat with your long-distance friends.
Colouring books: They're not just for kids.
Try to reproduce something you see on Pinterest. Probably fail. Try again.
Clear out the family room and camp indoors with all blankets, popcorn and scary movies.
Finally get around to fixing that broken doorknob and loose tile or cleaning scuffed up walls. 
44. Interview people (over the phone, of course) and save the audio. Can you create an audio story or book with that file?
Go through your camera roll, pick your favourite pics from the past year and make a photo book or order framed versions online. 
Rearrange your furniture to make it seem like your home is a totally different space. 
Apply for a new job. You have remote work experience now. 
. Learn a new style of dance via YouTube, from belly dancing to breaking.
How many words per minute can you type? See if you can get speedier by taking a typing course.
Pick a place on the map and go 
Grab a friend—or go alone. Pack a lunch in a paper bag or go full out with a wicker basket. Head 

to the nearest park with a book or a camera and soak up the sun.
If you don't have a point-and-shoot, your phone will do. Take a walk around your neighbourhood and go very slowly, taking care to notice things you may have overlooked before. Take pictures of anything you find interesting.
Go to a museum or art installation 
Take in some culture—go to a local museum that'll teach you all about the history of your city or visit an art gallery and get to know the artists in your area. 
Volunteer or donate to charity 
Walk dogs at the animal shelter, volunteer at the soup kitchen, or even go through your closet and put together items you can donate to good will.
Go to lunch or dinner—by yourself 
Embrace your solitude and let yourself have anything you want on the menu! 
Set yourself a budget and go shopping
Budget shopping is a sneaky way to treat yourself without feeling guilty afterward. Give yourself an allowance—and spend exactly that much. No more, no less.
Working on something (Hobbies)
Spend the whole day reading and finishing a book 
turn off social media and keep the TV remote out of arm's reach. Grab that book you've been dying to read for a while. Answer no phones, pick a comfy spot, and go.
Most of us don't take time out of our daily schedules to reflect. Change that by starting a journal and writing down what you love in your life right now, what you fear, what your goals are, and all the little perfect and imperfect moments that make up your days.
Cook an extravagant meal of all your favourite things
don't be afraid to play around with some of your favourite ingredients. Cook for yourself, your SO, or your best friend.
Go on a self-organized food tasting.
Complete a puzzle: The more pieces the better! Feeling extra saucy? Take on a Rubik's Cube. More of a word person? Crossword puzzle!
Start a blog. Sure, it can be about the coronavirus, but it could also be about a specific interest from chess to cheese. 
Write poetry. Perhaps you can craft a haiku for Mother's Day, or something without a specific structure. Just try it!
Learn calligraphy. YouTube can help.
Write a short story or get started on that novel.
. Write a book with your family/friends. Pick a character and each member writes a chapter about their adventures. Read aloud to each other. 
Dye your hair a new colour. No one else needs to see it if you don't like it.
Go viral in the good way by making a quarantine themed TikTok.
Study the art of beatboxing.
Learn Old English words. Pepper them into your conversation. Wherefore not?
Learn something you didn't know before
Days off are perfect for doing things you never have time to do. Try to learn the rudimentary basics of a new language, sign up for an online lecture, or pick up a new hobby, like painting or sewing.
Whether you're dancing to Taylor Swift in your living room, calling on a friend to teach you some cool yoga positions or giving Zumba a shot, get up and get moving! You never know—you might uncover a secret talent… or just some new dance moves to bust out in the privacy of your own home.
The uneducated belief in something false that someone tells you is the greatest enemy of your own truth.  Do not let anyone tinker with the freedom of your mind.
Taking baby steps in the right direction.
Throughout this beautiful day you have hundreds of little opportunities to move your life in the direction you want it to go.  When was the last time you woke up and realized that today could be the best day of your life?
Trying and failing and trying again.
Meditate. Try lying down with your eyes closed, palms up and while focusing on your breath. Or spend 20 minutes sitting cross-legged and repeat a soothing word to yourself in your head. (The latter is more like transcendental meditation.)
Look at yourself in the mirror. Attempt a self-

portrait with pencil and paper.
Take time to reflect: What have you accomplished in the last year? What goals are you setting for yourself in the next year?

Make a list of things for which you are grateful. 
Work on your financial planning, such as exploring whether to refinance your loan or ways to save more money. 
Practicing small acts of kindness.
Aesop once said, "No act of kindness, however small, is ever wasted.
Try out at-home aerobics or yoga videos. Consider downloading a fitness app with curated workout playlists.
Take a bubble bath (bonus: Add a glass of wine).
Acquire a foam roller and treat yourself to some physical therapy. 
Stretch. Work on your flexibility. It's possible to get the splits back, right?
Improve your mental health
Take responsibility for yourself
Keep personal details safe